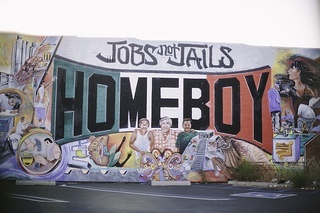 Having a conviction on your criminal record can lead to discrimination in academic and professional environments, making you feel isolated. Fortunately, you are not alone. There are organizations such as Taller San Jose and Homeboy Industries that focus on creating a supportive environment for former offenders in Southern California offering programs and services that teach practical skills.
Taller San Jose is an organization based out of San Jose, California that supports youths who are undereducated, unskilled, and unemployed by offering four different paid training programs that teach necessary skills in finding gainful employment. Prospective students have the option to study from an array of subjects with the Medical Careers Academy, the Administrator and Billing Clerk Academy, the Office Careers Academy, and the Construction and Green Technology Academy. These academies allow students to learn skills that will set them up for a brighter future and successful career.
Taller San Jose also offers support services to ensure that interns successfully complete the job-training programs by providing case managers. The support services also helps resolve criminal or legal issues, offers childcare and transportation assistance to eligible candidates, and on-going job coaching and placement assistance, amongst other services. For more information about programs for former offenders, or volunteer opportunities with Taller San Jose, please for their website at http://tallersanjose.org/.
Homeboy Industries is based out of Los Angeles, California and is dedicated to helping former offenders by introducing them to a supportive environment and through education and training programs. Homeboy Industries gives former offenders a place to learn job skills, get an education, learn new life skills, find their strengths, and become a contributing member to their families and communities.
Homeboy Industries is unique in that they have many business ventures that allow former offenders the opportunity to learn practical skills by creating and selling their own products. For instance, former offenders make and sell their own goods from the Homegirl Café, where they also offer catering services. Their Homeboy Silkscreen and Embroidery services offers custom shirts, pens, and more with silkscreen or embroidery. For more information about how to get involved with Homeboy Industries, please visit their website at www.homeboyindustries.org/.
There are many organizations that help former offenders by offering support, and practical and educational programs that help former offenders leave behind a life of crime and pave the way toward a successful future. For tips on expunging your record, read our article on How to expunge a Los Angeles Criminal Record.